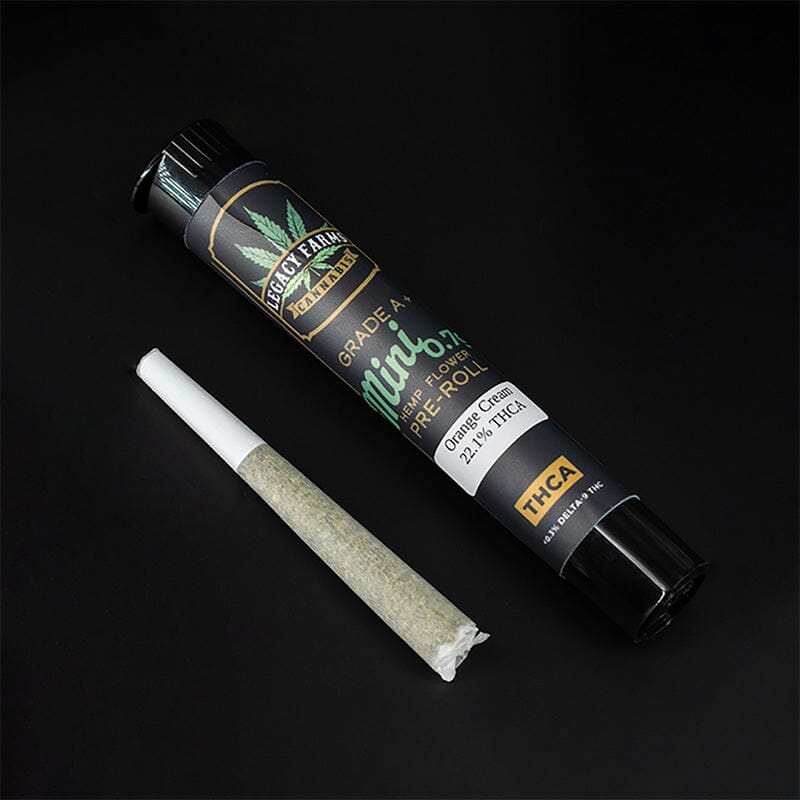 Legacy Farms | THCa | Pre-Roll
---
In stock, ready to ship

Inventory on the way
"
Legacy Farms Grade A+ Flower is finally here! Enjoy the locally grown hemp flower harvested in NC you know and love with the added benefits of naturally high levels of THCa and less than 0.3% delta-9 THC. 
Gary Payton (Hybrid/Sativa): 29.6% THCa
Purple Mimosa (Hybrid/Indica): 27.9% THCa
Runtz (Hybrid/Sativa): 24.9% THCa
Jealousy (Hybrid): 22% THCa
King Sherbert (Indica): 25.2% THCa
Frosted Flakes (Indica): 33.4% THCa
Gary Payton (Hybrid): 29.6% THCa
Orange Cream (Sativa): 22.1% THCa
Jesus OG (Hybrid): 19% THCa
Gelato (Sativa/Hybrid): 15.9% THCa
Biscotti (Hybrid): 19.2% THCa
Gushers (Hybrid) 15.5% THCa
Platinum Zkittles (Indica) 19.5%
Fruitopia (Sativa/Hybrid) 14.9% 
Full Spectrum
0.7-1.7 gram pre-rolls

Contains less than .3% Delta 9 THC 
Legacy Farms exclusively grows and sells legal, organic hemp flower. Must be 21+ to purchase.

CAUTION: This is federally compliant hemp flower with high levels of naturally occurring THCa and less than 0.3% delta-9 THC. Legacy Farms or its retail partners are not liable for any misunderstandings regarding the legality of this product.

WARNING: Keep out of reach of children and pets. Must be 21 years of age or older to purchase and enjoy. Do not drive or operate machinery while using. Consult a medical provider prior to use. Enjoy responsibly.
"