Customer of the Month | July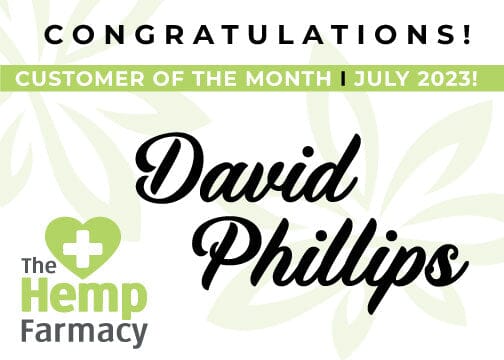 At The Hemp Farmacy, we believe in recognizing and celebrating our loyal customers who make our journey worthwhile. This month, we are thrilled to honor David Phillips as our esteemed Customer of the Month. David's passion for our products and his continued support have made him stand out amongst our valued clientele. To express our gratitude, we decided to gift David with one of his all-time favorite items from our store. Join us as we delve into David's experience and discover the product that he has come to love. David's product of choice is our premium Prolifera Capsules. 
At The Hemp Farmacy we provide personalized recommendations and answer his questions with expertise and kindness. As a token of our appreciation, we offered David the opportunity to select one of his favorite items as a gift.
David Phillips is a valued Hemp Farmacy customer—someone who not only appreciates the natural benefits of hemp-based products but also embraces the sense of community and support we strive to foster. We are proud to have David as part of our extended family and are committed to continuing our mission of providing high-quality hemp products to customers like him.
If you're seeking natural remedies or simply want to explore the world of hemp-based products, we invite you to visit The Hemp Farmacy. Our dedicated team is ready to guide you on your own unique journey towards wellness and introduce you to a wide range of remarkable products. Who knows? You might be the next Customer of the Month!
The Hemp Farmacy is a renowned hemp and CBD store located in Wilmington, North Carolina. With a focus on providing high-quality hemp-based products, they have become a trusted destination for individuals seeking natural remedies and wellness solutions. Also Try our own Legacy Farms Grade A+ Flower with the added benefits of high levels THCa and less than 0.3% delta-9 THC. 
If you're in the Wilmington, Jacksonville, or Raleigh area and looking for high-quality hemp and CBD products, The Hemp Farmacy is definitely worth a visit. Whether you're a first-time user or an experienced enthusiast, their knowledgeable staff will ensure that you find the right product to meet your individual needs. Explore their store, ask questions, and discover the potential benefits of hemp-derived wellness products.
---