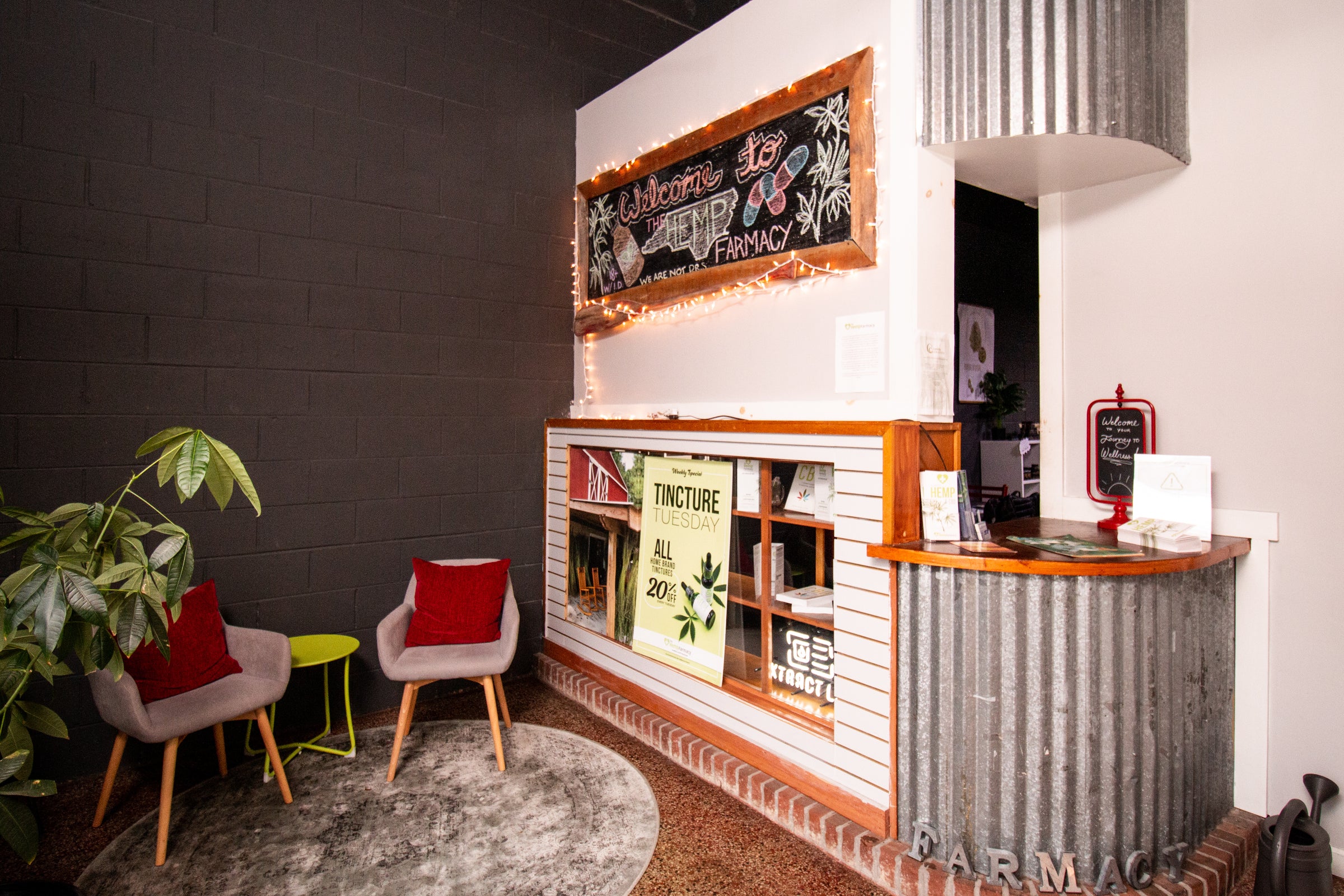 Schedule time with one of our experts
Here at the Hemp Farmacy, we consider ourselves to be qualified local professionals and that is a big reason we have helped so many people who have come into our stores. We do our best to provide the best experience in our stores and with our products and education is a big part of that. Guiding customers through each individual's wellness and cannabis journey is our specialty, but some may need more guidance than others. We all start somewhere and we are here to meet you wherever you may be along the road. 
During these customer consultations you will have the opportunity to sit down with our Education Manager and other staff members to assess your needs and preferences. As we are not medical providers we rely on educating you about how cannabis works so that you can make the best decision for yourself. All of the staff has been trained in research based educational materials, customer reviews and experiences as well as their own personal experiences.
These customer consultations would provide time and space for our customers who may have more in depth questions or are trying cannabis products for the first time. We all know what it is like to walk into a store and have no idea where to start, what to try, or what you may like. Even our most experienced staff had to start somewhere and we would like to use our experience and knowledge to help you the best we can. It can feel overwhelming talking about your personal journey in front of other customers who may be in the store, so this is also an opportunity for customers not to feel rushed and in a private comfortable setting. Whatever you have going on in your journey we are here to help find out if cannabis will be able to aid you in this process and what makes you feel most confident in reaching your wellness goals.
Frequently Asked Questions
Full spectrum means that the extract contains CBD, terpenes*, and other phytocannabinoids**. This includes up to 0.3% Delta 9 THC.
Just because there are trace amounts of Delta 9 THC in a product does not make the product intoxicating.
*Terpenes are the aromatic oils that hemp, marijuana, and tons of other plants and fruits create. **Phytocannabinoid is the term for compounds like CBD and THC. There are over 140 cannabinoids we've found in cannabis so far!
CBD is nonintoxicating meaning you will not get that "high" even from full spectrum products.
It is important to read the label on hemp products carefully to determine how much THC is in your product even if you believe it to be only CBD. 
It's hard to classify one product being the best for everyone. Some trial and error plus consideration for your unique needs is always required.
We do have a few products tailored specifically for sleep, those include:
There are plenty of options with different advantages to each! The most popular would be tinctures or edibles.
Tinctures are oil based and great for absorbing under your tongue. They offer a fast onset time and ability to control dose down to the milligram. Edibles are great to take more preemptively and when you need a longer lasting effect.
THC is not for everyone and CBD offers plenty of benefits on its own. Depending on what you're looking for and your comfort level, THC can offer additional support or natural recreational effects.
If you are interested in integrating THC into your life, consider starting low, slow, and mindful of your tolerance. Always shop trustworthy products and brands with third-party lab reports available.
Always talk to a trusted healthcare provider before taking THC and advise the health warnings and disclaimers on all of our THC products.
Of course! CBD can offer our pets similar benefits as it can for us. There are all kinds of pet-safe CBD products available that have been third-party lab tested for quality.
The general dosing for pets starts at 1-2mgs of CBD for every 10 pounds. Some trial and error may be required as far as dose, timing, and frequency depending on your pet's needs.
Always consult a veterinary professional before administering CBD to your pet. Keep THC products away from your furry friends as THC can potentially be toxic.
If you're targeting a specific area of the body, then a topical is the way to go. A topical can provide localized benefits without crossing the blood-brain barrier if you would rather not ingest.
Ingesting or inhaling your product will give an "all over" effect on the other hand. Combining these two avenues can also be beneficial.
It's extremely important to talk to your doctor about using CBD or any cannabis products, but especially when you are on other medications.
It's especially important to avoid taking CBD at the same time as your heart and blood pressure medications.
The effect of CBD and most cannabis products is very dose dependent! 
Smaller amounts of CBD can be much better for more energetic effects and help with focus. Larger amounts are better for increased therapeutic benefits and sleep.
Everyone is different, so "smaller" and "larger" doses are relative to the individual.
Current research shows CBD is non-addictive.
Studies have shown CBD may actually help aid in various substance addictions.
Full spectrum CBD products can contain up to 0.3% Delta 9 THC. When used continuously over a period of time, that THC may show up in your system.
Broad spectrum and isolate CBD products do not contain any trace amounts of THC and are often favorable for anyone expecting regular drug testing.
There is no universal recommended dose when it comes to cannabis products.
Your preferred dose depends on your unique needs. Some trial and error may be required to find what's right for you.
Starting at a low dose and working your way up slowly and gradually as needed is the best way to gauge where your individual threshold is. Timing is also a huge factor depending on your needs and your lifestyle.